Hunter Introduces the New 4PMB Four-Post Lift for Mercedes-Benz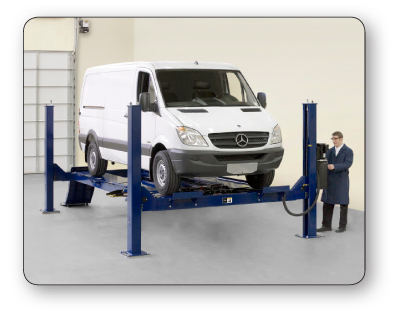 Hunter now offers the 4PMB four-post alignment lift as a high-capacity option for Mercedes-Benz dealers to service a wide range of vehicles, including Sprinter vans. In fact, the 4PMB is the only alignment lift approved by Mercedes-Benz to service Sprinter vans.
The 4PMB provides a massive 18,000-lb. lifting capacity and maximum wheelbases of 193 inches for general service and 177 inches for both two-wheel and four-wheel alignment service.
The optional features available include Hunter's award-winning PowerSlide® system, which allows the technician to lock and unlock turnplates and slipplates with the flip of a switch, eliminating multiple trips around the vehicle and the hassle of removing and replacing lock pins.
When equipped with Hunter's patented Fully Integrated Alignment (FIA) console, which has the capability to communicate directly to the lift, plate operation is controlled automatically by the aligner, as needed during the alignment.
The FIA-equipped 4PMB model also includes Hunter's exclusive Inflation Station feature, which speeds service and ensures more accurate alignments by automatically setting tire pressure for each wheel simultaneously with air hose reels integrated into the lift runways at each wheel position. The tire pressure can be preset at the lift console or the aligner when FIA equipped.
Hunter Engineering is the leader in alignment systems, wheel and tire service, brake service and inspection lane equipment. Hunter equipment is approved and used by vehicle manufacturers, automobile and truck dealers, tire dealers and service facilities around the world.
For additional information, visit our website at www.hunter.com or contact Robert Bruce, Advertising Manager, Hunter Engineering Company, 314-731-3020 (x443).

11250 Hunter Drive • Bridgeton, Missouri 63044 USA • (314) 731-3020