Access Wheel Service Tips and Procedures at the Balancer With Hunter Help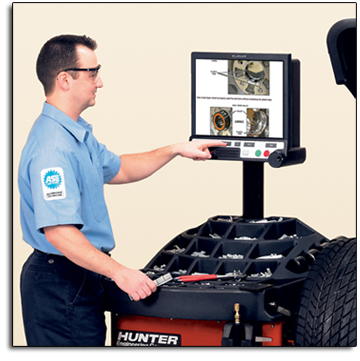 Hunter Help offers quick, convenient instruction on a variety of balancing and tire changing topics to help shops provide better service and boost productivity.
Hunter Help covers everything from basic balancing and tire changing techniques to more advanced procedures to service TPMS, PAX tires and plastic-clad wheels.
Detailed color photos, illustrations and actual balancer screens are incorporated into the pages to better explain the technique or procedure. Easy navigation saves time over searching through instruction manuals, and the information helps technicians do the job right the first time, eliminating comebacks.
Hunter Help can be updated using a portable thumb drive.
Hunter Help is standard with new Hunter LCD balancers running version 3.1 balancing software and is also available as a software upgrade for existing Hunter LCD balancers.
Hunter Engineering is the leader in alignment systems, wheel and tire service, brake service and inspection lane equipment. Hunter equipment is approved and used by vehicle manufacturers, automobile and truck dealers, tire dealers and service facilities around the world.

For additional information, visit our website at www.hunter.com or contact Robert Bruce, Advertising Manager, Hunter Engineering Company, 314-731-3020 (x443).

11250 Hunter Drive • Bridgeton, Missouri 63044 USA • (314) 731-3020